¡Por fin se me hizo! Mañana viajo a Austin,Texas para asistir a la conferencia Vida Vegan Con. Una conferencia para blogueros veganos y para todos los curiosos que quieren aprender sobre esta forma de vida.
La conferencia empieza con un bazar vegano, un evento abierto al publico lleno de actividades divertidas, como demostraciones para hacer tu propia Kambucha y postres deliciosos. También tendrán paneles y charlas entre muchos otros participantes veganos como productos, empresas, emprendedores, etc. La plática de apertura la dará el grandísimo Gene Baur, fundador de Farm Sanctuary y la clausura Terry Hope Romero conocida también como Vegan Latina.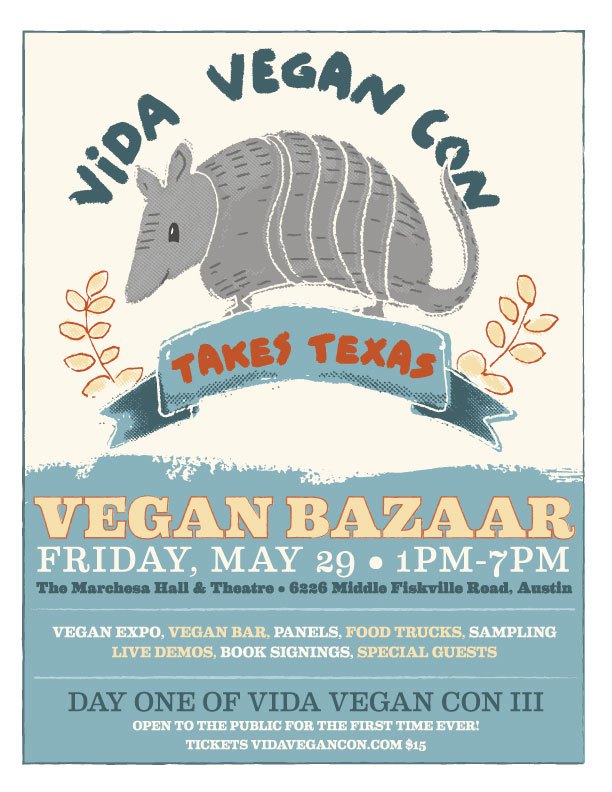 Durante la conferencia se llevarán a cabo más de 40 charlas, clases y paneles de discusión sobre temas interesantes, todos relacionados con el veganismo, como nutrición, cocina, desarrollo de recetas, publicación de libros, activismo, atletismo vegano, técnicas y métodos para empezar tu propio blog, fotografía, mercadotecnia y publicidad, etc. Lo mejor de todo es que ¡se servirá solamente comida vegana! El desayuno y el lunch están incluidos en el precio. Así es que no habrá necesidad de buscar restaurantes o comida vegana.
Participarán 25 conferencistas, los cuales muchos de ellos han llevado al veganismo hasta la televisión y otros medios de comunicación masiva. Las historias de muchos de ellos son una inspiración para mi. A continuación les dejo una bio pequeñita de cada uno ellos y sus enlaces de sus páginas por si quieren saber más de ellos.
Terry Hope Romero, Vegan Latina
Autora de varios libros de cocina vegana como Vegan Eats World, Vida Vegan! y co-autora del famosísimo Veganomicos, Vegan Cupcakes Take Over the WOrls and Vegan Cookies Ivade Your Cookie Jar. También es una de las chefs de la serie de televisión Mashup.
Miyoko Schinner, Artisan Vegan Life
Miyoko ha revolucionado la técnica para la creación y preparación de quesos veganos. Recientemente publicó su libro Artisian Vegan Cheese en donde se pueden encontrar sus mejores recetas de quesos veganos. También, apenas el año pasado, lanzó su compañía de quesos veganos, Miyokos Kitchen. Su profesión como chef vegana y autora de varios libros la ha llevado hasta la televisión, siendo una de las presentadoras, junto con Terry Hope Romero, en el programa de Mashup.
Ayinde Howell, I Eat Grass
Ayinde es el autor del libro de cocina The Lusty Vegan, creador de su página ecléctica ieatgrass.com, fundador del evento culinario Wildflower y presentador en la serie de videos "Like a Vegan" en Ulive.com. Sus recetas han aparecido en revistas importantes como The New York Times, VegNews Magazine y Essence.
Gena Hamshaw, Chooosing Raw
Autora del libro Choosing Raw, editora de libros de profesión y couch certificada de nutrición.
Brian Patton, The Sexy Vegan
Autor de los libros The Sexy Vegan y The Sexy Vegan's Happy Hour at Home.
Fran Costigan, Queen of Vegan Desserts
Repostera de profesión, graduada de New York Restaurant School y de Natural Gourmet Institute, autora de los libros More Great Good Dairy Free Desserts Naturally y Vegan chocolate. También es conferencista, consultora culinaria e instructora de demostraciones.
Nicole J. Georges, Invincible Summer
Escritora e ilustradora de profesión. Ganadora del premio Lambda por su colección de dibujos Calling Dr. Laura.
Whitney Lauristen, Eco Vegan Gal
Fundadora y voz detrás de Eco-Vegan Gal, una serie de videos, un recurso útil para todos aquellos que están haciendo la transición al veganismo.
Ginny Messina, The Vegan RD
Una de las nutricionistas más reconocidas en el medio y co-autora de varios libros como Vegan for Life y Vegan for her.
Grant Butler, The Oregonian's FoodDay
Reconocido periodista vegano y critico de comida. Puedes leer sus artículos en su página OregonLive.com
Jill Pyle, Vegan Cuts
Fundadora de Vegan Cuts, una empresa que se dedica a formar paquetes de productos veganos, ya sea comida o productos de belleza. Como parte su control de calidad, todos los productos que venden son probados por su equipo de trabajo antes de incluirlos en sus paquetes.
Jojo Huxter, vegan.in.brighton.
Autora del blog Vegan in Brighton, en donde comparte sus aventuras y viajes por el mundo. También es la fundadora de Operation Icing, una pastelería sin fines de lucro. Su principal objetivo es la de recaudar fondos económicos para organizaciones a favor de los animales y para que la gente local tenga acceso a deliciosos cupcakes libres de crueldad.
Hannah Kaminsky, Bitter Sweet.
Autora, chef pastelera, fotógrafa, estilista de comida y creadora de recetas.
Matt Ruscigno, True Love Health.
Nutriólogo reconocido en el medio, creador del blog True Love Health, atleta vegano y coautor de varios libros como No Meat Athlete y Appetite for Reduction.
Jackie Sobon, Vegan Yack Attack.
Bloguera muy reconocida en el medio, fotógrafa, creadora de recetas veganas y muy pronto, autora de su propio libro.
Monique Koch, Brown Vegan.
Bloguera y creadora de la serie de videos en YouTube. Monique se enfoca en la preparación de alimentos sanos y vida en familia.
Susan Voisin, Fat Free Vegan.
Reconocidísima bloguera. Uno de los blogs con más audiencia en el mundo vegano.
Sayward Rebhal, Bonzai Aphrodite.
Autora del libro Vegan Pregnancy Survival Guide, escritora freelance, entusiasta de huertos urbanos y coach de vida vegana.
Michelle Lee, Broadwies Design.
Diseñadora gráfica y vegana.
Joshua May, Clue.
Creador de aplicaciones electrónicas. Lo puedes encontrar en Titter, @notjosh.
Christy Morgan, The Blisfull Chef.
Chef personal, autora de libros de recetas, editora de la revista Definition Magazine, food coach y entrenadora.
Bianca Phillips, Vegan Crunk.
Periodista, bloguera y autora de su primer libro Cookin' Crunk: Eating Vegan in the Dirty South.
Joni Marie Newman, Just The Food.
También conocida como la reina de las hamburguesas veggies. Autora y coautora de 8 libros de cocina vegana.
Lacy Davis, Super Strength Health.
Health coach e instructora vegana.
Randi Milgram, Laughfrodisiac.
Abogada de profesión y bloguera de corazón.
Amey Mathews, Vegan Eats & Treats.
Bloguera y artista.
Felicito y le doy las gracias a las organizadoras Janessa Philemon-Kerp del blog Epicurious Vegan, Jezz Scone del blog Get Sconed! y Michele Truty de Vegtastic Voyage por su gran idea de hacer este evento y por su gran trabajo.
No se pierdan las fotos y comentarios durante la conferencia en la página de Veggisima en Facebook e Instagram.

Recapitulación de la conferencia Vida Vegan Con 2015
La conferencia estuvo genial. Yo creo que ha sido una de mis favoritas, no solo porque estaba con gente que tenía la misma forma de pensar, si no porque tuve la oportunidad de conocer a muchos amigos ciberneticos en persona. La comida estubo excelente, las platicas fueron muy informativas y el lugar estaba perfecto. Espero que muy pronto hagan otro. Aquí les dejo unas fotos.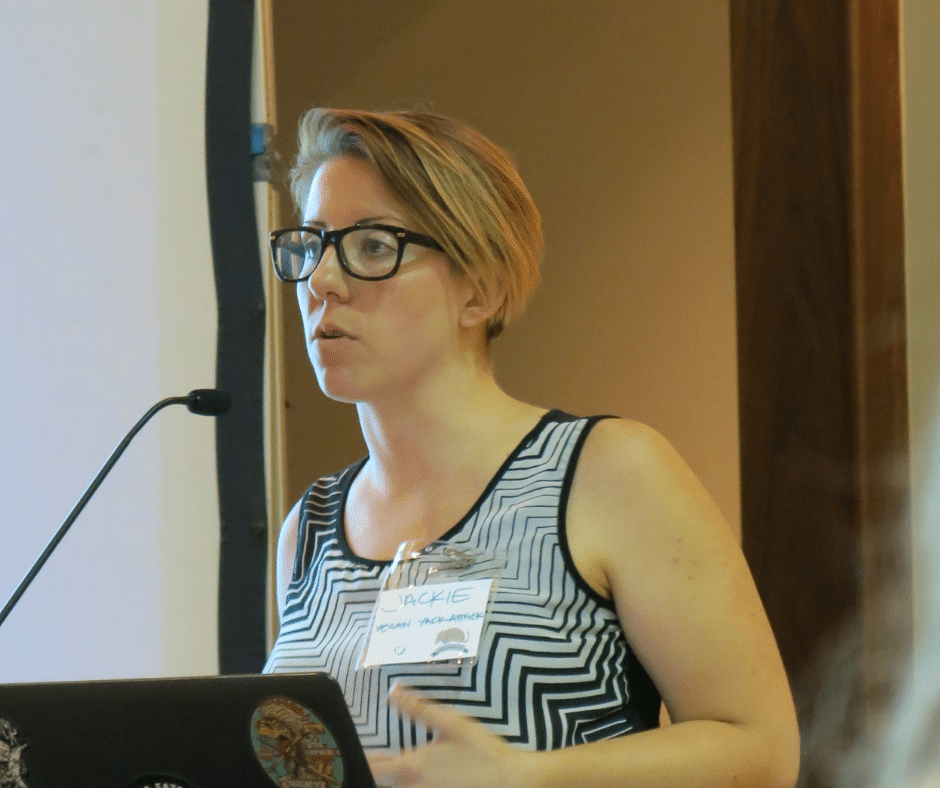 Jackie Sobon de Vegan Jack Attack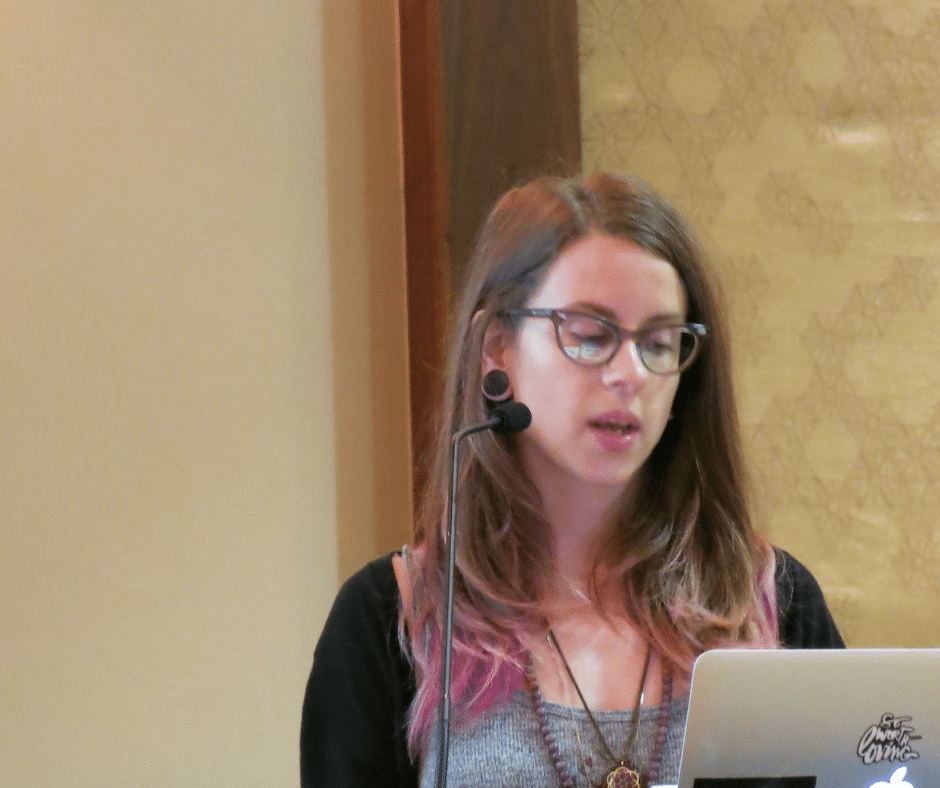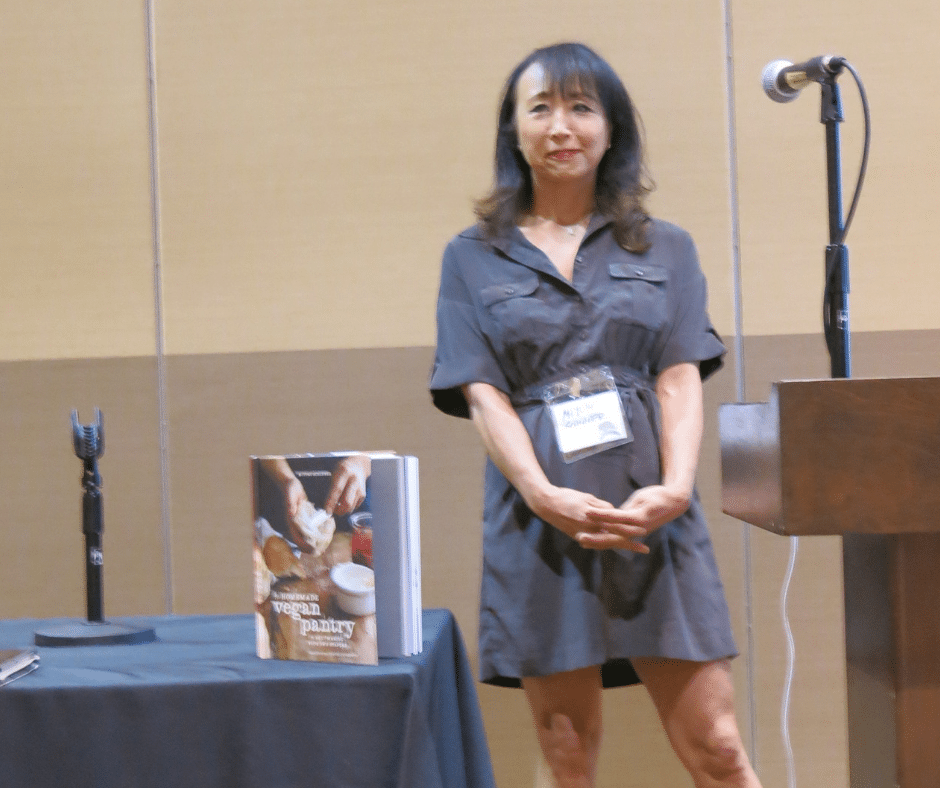 Miyoko Shinner de Artisan Vegan Life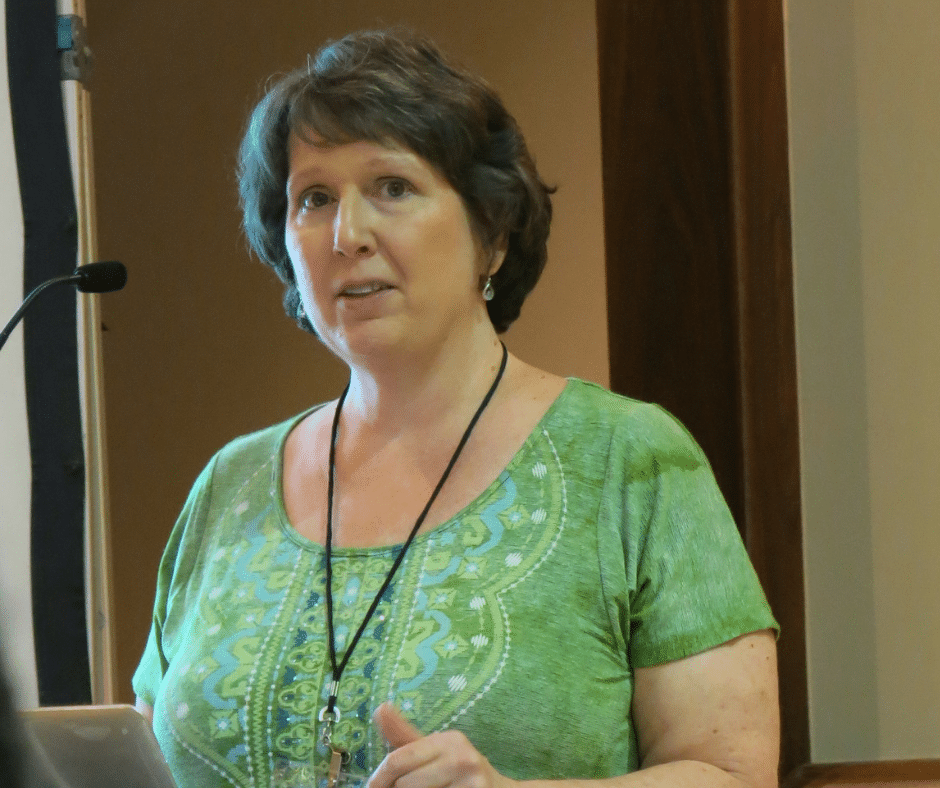 Susan Voisin de Fat Free Vegan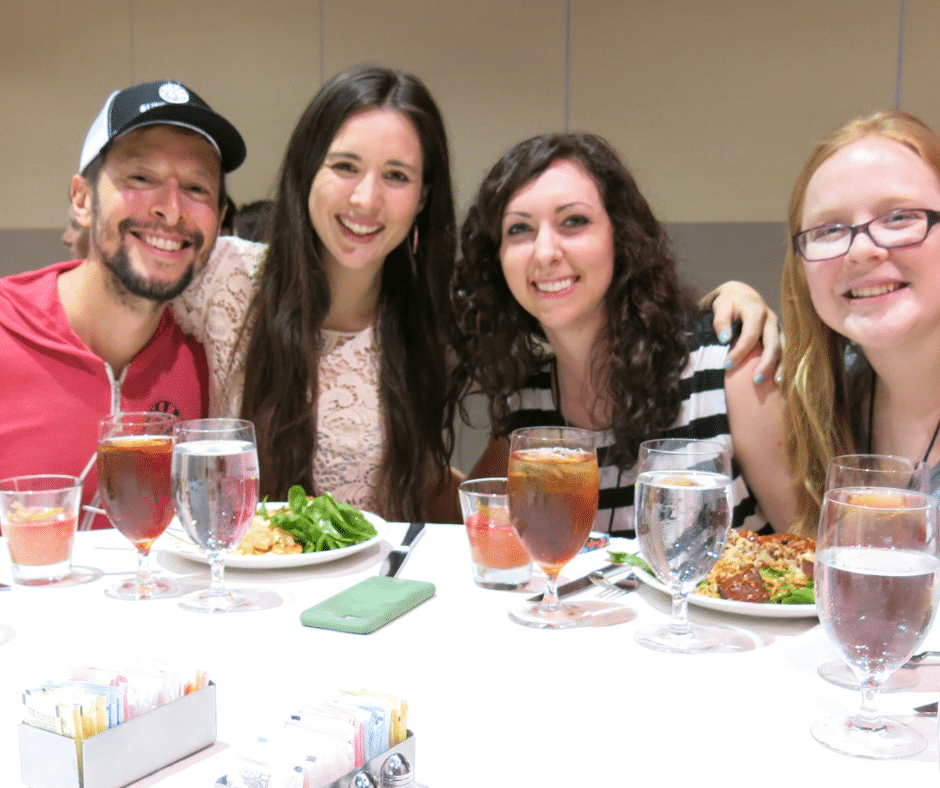 Jason Wrobel, Whitney Lauristen y unas maigas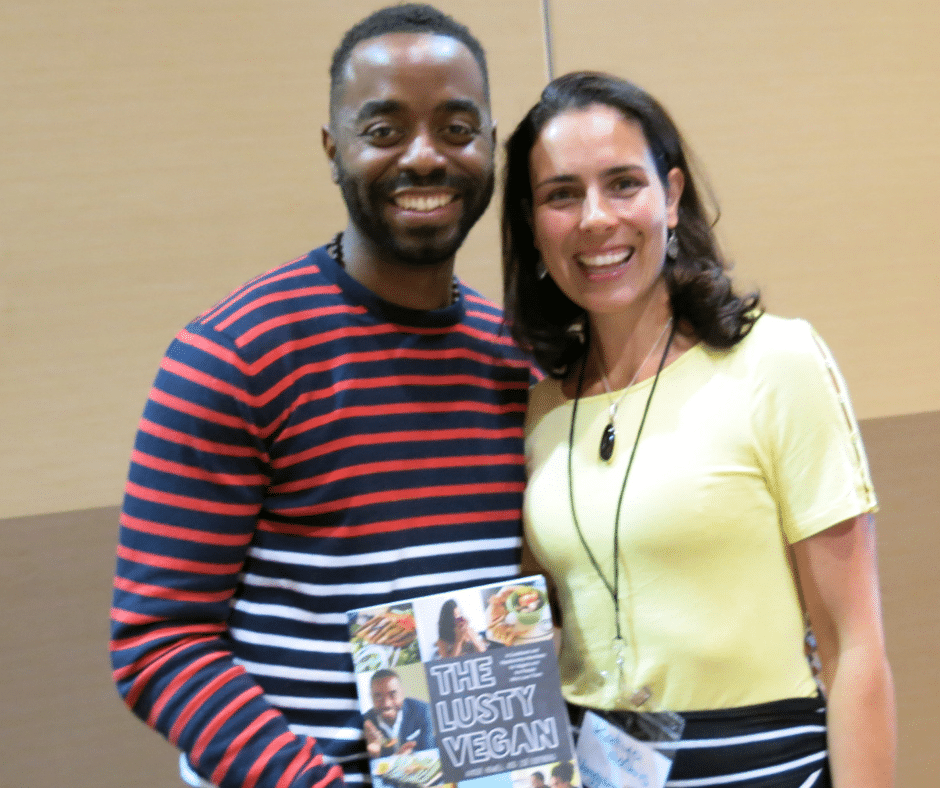 Ayiende Howell y su libro " The Lusty Vegan"